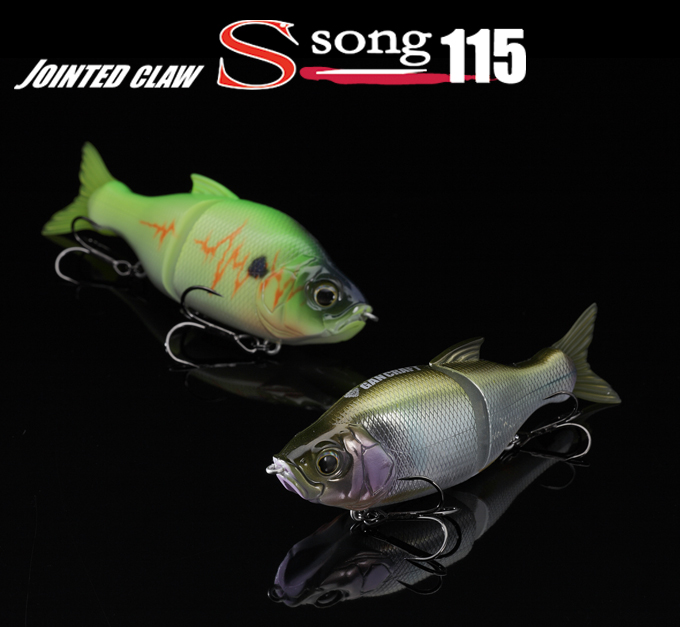 Wave to another dimension never touched by anyone.
S-SONG is the 3rd S-Shaped JOINTED CLAW series, a successor of JOINTED CLAW 178.Combined with the water flow, the Front Groove under the front eye bolt makes the S-swimming and gets more bites by the big bass. Also, the high level of various actions of Straight retrieve, Bottom stay, Twitch, and Jerk can be achieved by using the tungsten to lower the gravity point.
| Length | Weight | Price |
| --- | --- | --- |
| 115mm | 1oz class(Slow Sinking Type&Floating Type) | |
Standard Hook, C'ultiva ST-36BC  Front:#2  Rear:#4
SLOW RETRIEVE & IRREGULAR ACTIONS
| | |
| --- | --- |
| -The most basic approach of using this lure is a STRAIGHT RETRIEVE, giving the bass to bite the lure by changing the retrieve speed and the S-swimming range. | |
| -Keeping the lure stay at the bottom and putting the jerk when it attracts the bass lead the bite of the bass. | -The lure acts like escaping bait fish irregularly by jerk during the slow retrieve. Also,STOP & GO at retrieve with the normal speed gets more attention of the big bass. |
COLOR LINE UP
#01 Tanago

#02 Nakahira Shad

#03 Gogawa Gill

#04 Ama Frog

#05 Flashing Candy

#06 Dead Fish

#07 Gekichar

#08 Ja Ayu
OPTION PARTS
Jointed Claw S-SONG 115 Spare Tails
Changing the tails to the option tails at S-SONG is effective on bass.
Normal Tail
-Normal Tail: Made with elastomer produces the most basic S-Swimming.
Weak Tail
It makes the action small and can trace in the narrow area.
#01
Black Smoke

#02
Light Green

#03
Light Orange

#04
Fluorescence Yellow

#05
Black Red

The action is minimized when removing the tail and it can be used as a shallow crankbait.